As world leaders meet in Paris for COP21 Climate Meetings – PledgeVideo.org's new online tools help calculate carbon footprint offset opportunities with focus on telecommuting and video conferencing
Calculating carbon neutrality is definitely a difficult task. Luckily the Environmental Protection Agency has done the heavy lifting here providing multiple calculations for: CO2 to gallons of gasoline, CO2 to pounds of coal, CO2 to passenger vehicles and average miles driven to passenger vehicle. Detailed equations are available at: http://www.epa.gov/cleanenergy/energy-resources/refs.html
World leaders meet in Paris this week for COP21 climate change meeting. PledgeVideo.org promises to help "stateside" with free online tools for individuals and businesses of any size built for planning ways to reduce carbon footprint with new technology. PledgeVideo.Org is a free online tool for companies to use and promote reductions in business travel and "carbon offset" using web video conferencing and collaboration technologies that promote telecommuting.
As world leaders meet in Paris this week to discuss climate change PledgeVideo.org helps businesses understand what we can do stateside to reduce carbon emissions with videoconferencing. PledgeVideo.org hopes that turning the conversation inward and focusing on what can be done at home collectively will help individuals and businesses take advantage of "low hanging fruit" such as video conferencing technology.
One of the easiest ways to reduce your personal or organizational carbon footprint is to reduce travel. As the costs for video conferencing technology continue to become more affordable, implementing effective online conferencing plans can easily produce amazing ROI oppurtunities and help reduce carbon emissions at the same time! It's really a win-win for everyone and this time the environment is included!
It's amazing how this is something any individual, small or large business can implement to reduce our carbon footprint, regardless of the actual hardware or software that is used.
How it Works:
Step 1: Calculate your total carbon footprint with University of Berkely's CoolClimate Calculator.
Step 2: Estimate your carbon emission offset using web video conferencing to replace business travel with PledgeVideo.Org's calculator.
Step 3: Use the information from Step 1 & Step 2 to calculate your Carbon Neutrality here.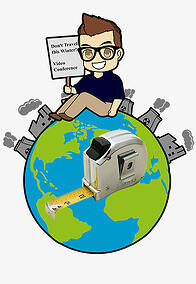 A look at the numbers:
Calculating carbon neutrality is definitely a difficult task. Luckily the Environmental Protection Agency has done the heavy lifting here providing multiple calculations for: CO2 to gallons of gasoline, CO2 to pounds of coal, CO2 to passenger vehicles and average miles driven to passenger vehicle.
Detailed equations are available at: http://www.epa.gov/cleanenergy/energy-resources/refs.html
Estimating CO2 and reductions
To estimate the value or "carbon offset" we have utilized the EPA equations for determining total CO2 reductions. For example if a traveling sales person reduces 50% of business travel we use the EPA's average "CO2 to Passenger Vehicles per year" equation and cut that number in half. Using equations like this are never exact but our goal is to estimate the value of "Offset Carbon" to inspire a better world and environment in the world we live in today! If you would like to calculate the Return on Investment for video conferencing you can use our ROI calculators here. PledgeVideo.Org is soley devoted to environmental statistics and actual $ amounts return on investment are not included.
Future Generations Thank You!
Live Webinar this Friday!
Media Contact
Company Name: PledgeVideo.org
Contact Person: Paul Richards
Email: Send Email
Phone: 6105182200, 1 800 486-5276, F: +1 610 518-2201
Address:152 Robbins Rd
City: Downingtown
State: PA
Country: United States
Website: http://pledgevideo.org